Season Opener @ Big Red Cats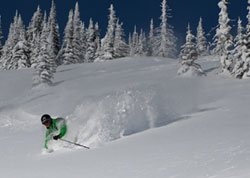 We got the Catskiing season off to a great start thanks to Kieren and the crew at Big Red Catskiing in Rossland. We headed out there for the January 3-4 weekend with excitement just to get some powder turns in...no matter how deep or abundant! Arriving at the Red Shutter late Friday night we were greeted with two guests who could barely keep their eyes open long enough to tell us how their last few days had been. Their expressions of bliss are still plastered to their faces I am sure!
Anyways, the skiing...well, we got up to the Big Red terrain to find sunshine and knee deep pow! Given the avalanche conditions in the area, the guides kept us in the trees which was fine with us! The next day we awoke to what amounted to another 20cms and sun poking in and out all day. Awesome weather, fantastic skiing, and a professional crew to boot. Click here to see some pics and stay tuned for more stories and videos in the next few days.