Mustang Powder Increase Terrain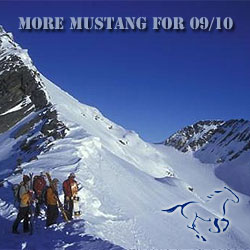 As a result of a deal with neighbouring Eagle Pass Heli skiing, Mustang Powder now has the use of some crazy cool new terrain. They are also gaining improved access to some old runs which, due to the inefficiency of the snowroad system, were rarely used. The real story here is that this opens up some really big terrain with long spectacular runs – normally only seen in the heli skiing industry.
So this news comes to us on the first rainy day of the summer. I find this kind of funny 'cause as the skys turned grey this afternoon I started to dream about when the snow is coming... Needless to say, news of expansion plans at Mustang Powder gets us going!
The New Runs at Mustang Powder are: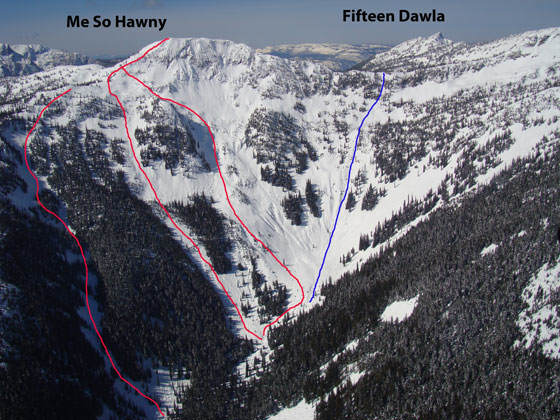 1. Me So Hawny – Drop off at 2100 meters elevation; Pickup at 1400; Vertical drop of 700 m (2250 ft)
2. Fifteen Dawla – Drop off at 2000; pickup at 1400; Vertical drop of 600 meters (2000 ft)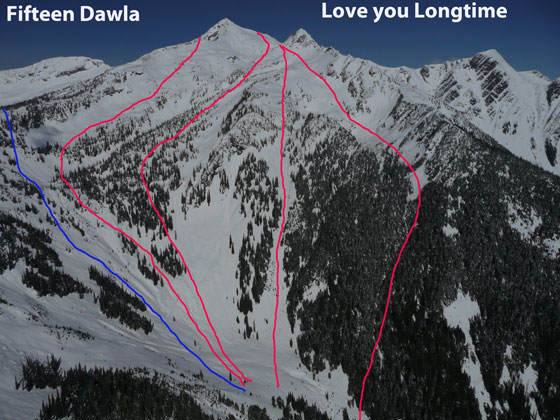 3. Love you Longtime – Drop off at 2300; pickup at 1400; Vertical drop of 900 m (3000 ft)
Old Mustang Powder Runs w/ More Access...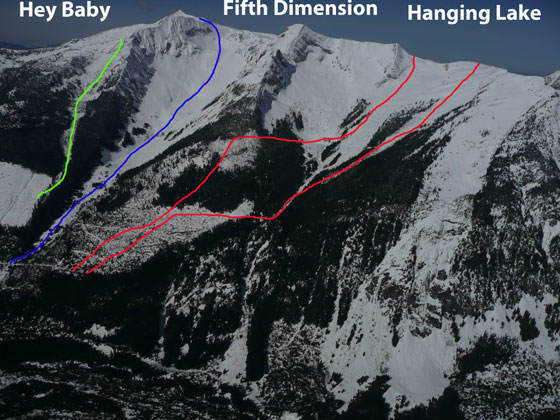 1. 5th Dimension – Drop-off at 2460 meters on the glacier; pickup at 860 meters; vertical drop of 1600 m (5200 ft)
2. Hanging Lake – Drop-off at 2140 meters; pickup at 960 meters; vertical drop of 1180 m (3835 ft)
"Mustang gives ski groups the choice of two programs"

1. Big Vert: This is the program which we have been using for years at Mustang. It consists of an early start in the morning – with the snowcat leaving the lodge at 8:30 AM (on Cloudy days in December and January we will leave the lodge at 8:45 due to the lack of daylight prior to that) and returning at approx. 4:30 PM. We don't stop for lunch (guests make their own lunches and can eat at their leisure on the cat rides). During this 8 hour day we typically do 15-20,000 vertical feet of powder skiing or snowboarding. Our drop-off and pick-up procedures are smooth and efficient – this results in us getting a lot of skiing each day.

2. Extremely Big Vert: This is a new program aimed at strong and fit groups of skiers who are keen to do an extra long day skiing fast and hard. For these groups we will also start at 8:30 – but will ski to 5:00-5:15 PM – meaning an 8 ½ + hour day. On this program we will be focusing on total efficiency, which means prompt loading and unloading of the cats, no dilly-dallying around. The longer days and the faster turn-arounds will result in about 3000 vertical feet more skiing each day. Guests will be obligated to be punctual in the mornings for the 8:30 start – but can sit out runs if the pace is too fast for them. At Mustang we operate on daylight savings time throughout the winter – in order to make optimal use of daylight. The Extremely Big Vertical program won't be implemented until late January when the days get long enough to go 8 ½ hours.