The Ultimate Powder Skiing Experience: Buy 2 get 1 FREE!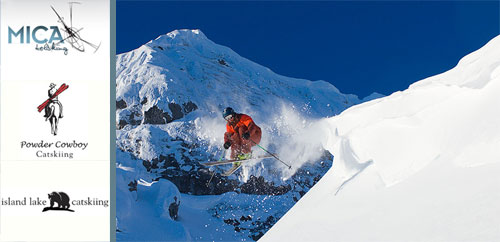 3 of the top backcountry operators in the business have launched a package that is sure to resonate with powder enthusiasts around the world.  If you book all 3 operations in the 2010 season, you get 1 for FREE.  That's right – book Island Lake Lodge Catskiing and Mica Heliskiing and you go to Powder Cowboy Catskiing for a free 3-day tour (some restrictions apply).  "We realize that many of our clients take multiple ski trips a year and love to ski fresh, deep powder.  This is the ultimate package to fulfill their skiing addiction" says Kirsten Knechtel, the manager of Powder Cowboy Catskiing.  Powder skiing or snowboarding in the Rocky Mountains of British Columbia is truly one of life's "must do's" and this is the ultimate way to experience it.
Powder Cowboy Catskiing is a unique backcountry ski destination located at a western style "Dude Ranch" near Fernie B.C.  The operation includes 6,000 acres of terrain and powder and accommodates 24 people at a time.

Mica Heliskiing is best known for their small group format (4 guests and 1 guide to a helicopter) incredible snow and with over 250,000 acres of world-class terrain, there is something for everyone!  Mica's main lodge sits 500 metres above Kinbasket Lake, in a truly spectacular setting!
Island Lake Lodge Catskiing has been an industry leader for 20 years. The magnificent peaks of the BC Rocky Mountains tower over 7,000 acres of bowls, valleys and gladed meadows. The luxurious wilderness lodges, fine dining, full service spa and level of service place Island Lake Lodge in a league of it's own.
Here is the link directly to the deal... The Ultimate Powder SKiing Experience