Season Finale with Big Red Cats
Season Finale with Big Red Cats - Rossland BC
Kieren Gaul of Big Red Cats in Rossland called us at the very end of the season. We thought it was over, we were wrong.

It was the middle of March and the snow was gone down in the valley. If I remember correctly I was fixing my truck out in the orchard working on my first sun burn of the spring when Kieren Gaul of Big Red Cats gave me a call. We had been trying to get out with Kieren and Paula for two seasons and now was the time.
My first thought was "Great, we finally get to go, it is warm, I have a few golf games in already and we are going to be cruising around on suncrust." Kieren let us know that they hadn't been operating for the last 5 days but they had some guests coming for the last week of the season and he needed to go punch some roads in. Since he was going anyways he thought that we should join him and check out the expanded terrain. Seeing as we hadn't skied with the Big Red Cats crew since their first season in 2005 we figured what the heck. Skiing is skiing and it is better that hanging around town watching the snow melt!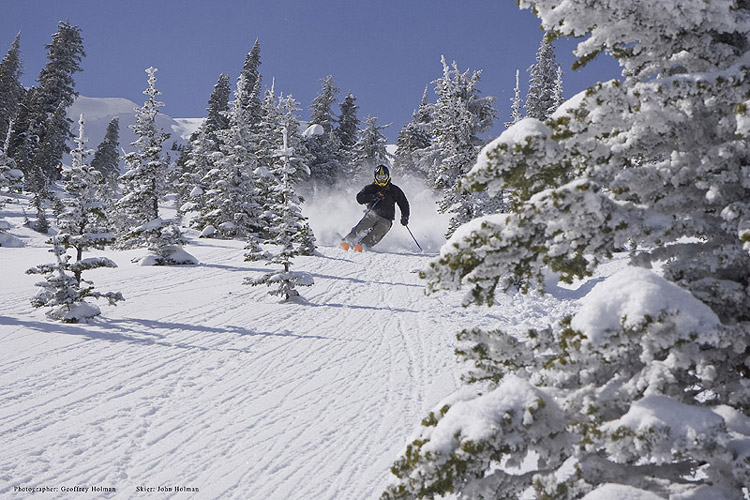 We arrived in Rossland late Thurdsay night to a warm reception at the Red Shutter Inn. If you want classic Canadian ski town hospitality, book a room at the Shutter. You won't be disappointed. Anyways, the better part of the reception was that it was snowing...and had been snowing on and off for a few days. 10 cms here and there can really add up as we found out.
We woke up nice and early, downed some OJ, coffee and Red Shutter pancakes and got started. Keiren gave us the safety meeting, radios and packs and since it was just the four of us and him we went over some game plans for a backcountry day. Kieren's experience really shows through. He is a super calm guy who is out there to find fresh lines and show his guests the best time possible given the current conditions.
Once in the BRC van we saw the sky start to break. Paula came over the radio once we were at the base staging area saying that the weather pattern had changed and we were in for some sun. And did I mention it had been snowing?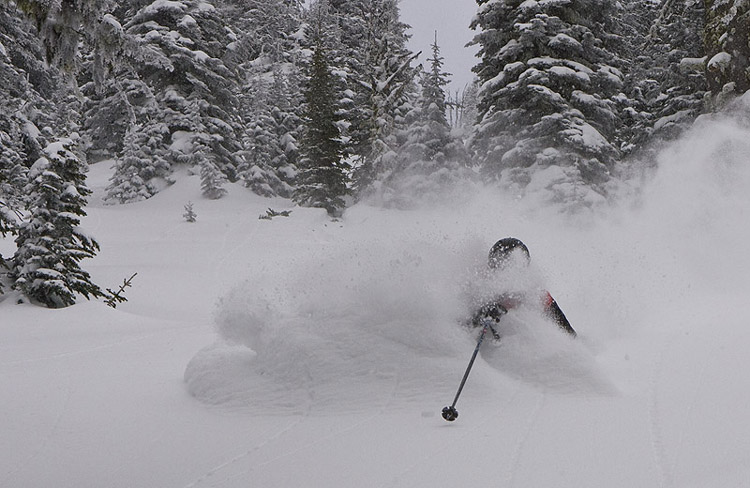 Kieren took us all over the old terrain and ventured into the new. Let me tell you, we skied smooth powder cruisers, treed pow runs, open bowls, gullies, and untouched virgin powder faces. There is something for everyone at Big Red Cats. Don't believe me? Try it out next season and see for yourself.
Todd Avison - Editor
Read more about Big Red Cats, get the info to plan your next trip!