2012 Booking Specials at Valhalla Powder Catskiing
The season is over so why not plan for next year!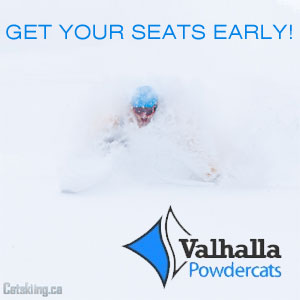 BC has just come off a banner powder season and Valhalla Powdercats got hit with some amazing powder dumps this season. Why are we telling you this now? You may be thinking, "It's all over man, why are you killing us with news about how awesome it was while we were stuck at work dreaming about skiing and wondering why we didn't book a trip?!". We well are giving you ample time this year to get in on some great early season deals for next season. Check out the latest from Valhalla Powdercats:
EARLY SEASON (Start to Jan 15th) $9000 for 3 day full cat if paid in full by May 15th 2011
HIGH SEASON (Jan 16th to March 15th) $12000 for 3 day full cat if paid by May 15th 2011
A Full cat is 12 people. So get your 11 closest friends and book your trip today to take advantage of these super-early deals.
If you need further convincing, check out our latest trip to Valhalla Powder Catskiing here >>>
Do us a favour and let em know we sent ya!