Birthday Chutes at Valhalla Powdercats
Nothing better than deep pow on your Birthday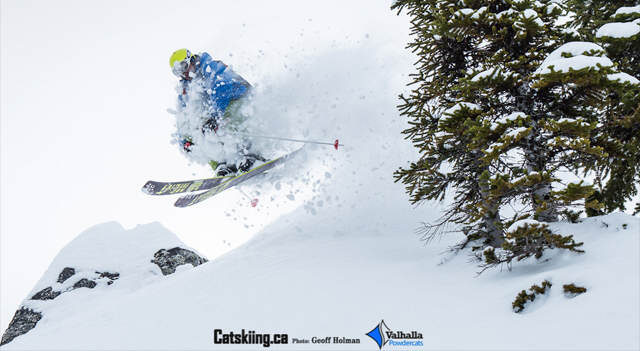 My birthday is on the 24th of March. I often get some spring skiing in as part of the festivities. With spring skiing you expect sunshine and corn snow. Good times for sure, but not the powder stoke. This year British Columbia has been blessed with a lot of snow in March ( 2+ meters in some areas ), and not too many sunny days ( Don't want to ruin all that lovely snow).
We lucked out my birthday with a special treat of tasty powder and some beautiful sunshine. The Guides got wind of it being my birthday and lined up something special for us... The Birthday Chutes! A rocky corridor of fun that spits you out into a pristine bowl with some great natural hits too boot!
We have always been impressed with the quality and variety of the terrain at Valhalla. On our previous trips to Valhalla we had always visited early in the season. This later trip gave us an opportunity to see more of there terrain. Let me tell you... It just gets better and better.
A big thank you Josh, Nesbo, Clark, and the rest of the Valhalla crew for making our trip and my birthday Epic!
[widgetkit id=9]