Icebreaker GT 260 Tops and Bottoms
This Christmas you will want underwear on your list!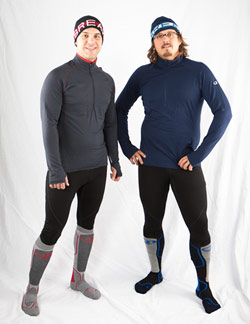 Underwear, not exactly the kind of thing you put on your Christmas list yet you always inevitability get some. It seems to be the default gift from grandparents, an estranged Aunt or a thoughtful and practical Mother. Well, this year we can help them help you with our
Icebreaker Pure Merino GT 260
base layer recommendations.
Icebreaker continues to step up their game and innovation every season. Last year we skied in the Bodyfit 260 base layers and loved it. This season Icebreaker has added a little more Lycra (they must have founds some Lycra sheep...) and more contoured stitching. Having a few ski days in already this La Nina season we can say from experience that these garments wear exceptionally well and do not move around on you, instead they move with you. Halfway through the first ski day I had to remind myself I was actually wearing a base layer!
The 2011/2012 GT 260 Icebreaker Pursuit Legless and Pursuit Zip Crew are to perfect choice for undies this Christmas. Not only to they wear better, they are finished with some more detail for those Apres Ski engagements. Featuring finished sleeves and collars along with some detailed styling to add just enough colour, these woolies live up to the test.
For more info, check out the Icebreaker site and your local Icebreaker dealer.
{gallery}Gear/IB/GT260{/gallery}