We travel back to the birthplace of catskiing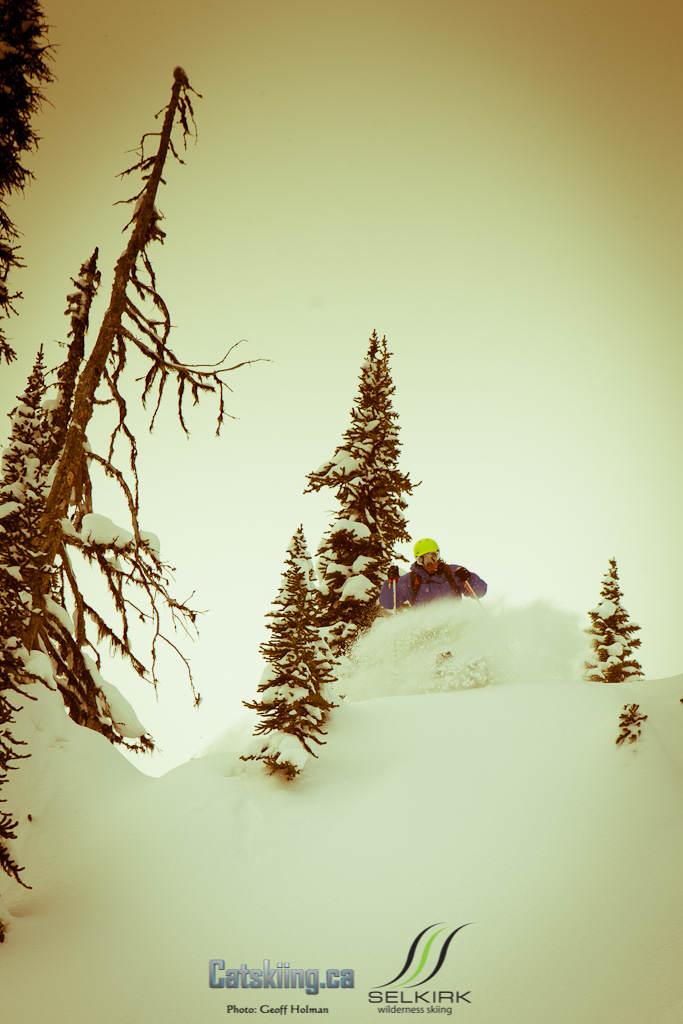 Sometimes things come together just right. Selkirk Wilderness had us out this year in late March. The 19th and 20th to be exact. Usually we would expect spring-like conditions. Warmer temperatures and sunny skies are things that come to mind when thinking about skiing in the later half of March. But not this season. No, the mood swings of La Nina had something different in store for us on our visit to SWS.
We arrived on Sunday night after a warm and dry drive through the valley towards Meadow Creek BC, the home of SWS. Even in places like Revelstoke the melt was on. We were feeling a little discouraged when the road was all mud as we approached the meeting spot. There wasn't even any snow there. But what boggled our minds was that all the BC weather reports have been saying nothing but crazy snow storms, 100 + centimetres at a time... These are the reports that make a skier start to froth at the mouth!
As we started to ascend up the Selkirk Wilderness access road the snowpack started to deepen. And then the brown landscape of the valley became a distant memory in mere minutes. We rolled up to the SWS lodge and found ourselves in a winter wonderland. Cold air, deep snow and a feeling that good things we coming over the next two days. Guests who have skied at Selkirk Wilderness for decades commented that they had never seen the snowpack so deep at the lodge before. More frothing...
Day One – We wake up and it is dark and low cloud. Spirits were high though, the snow was deep and that is what we were there for. After a hearty breakfast prepared by Melissa and her crew it was outside for a safety briefing and beacon training. Then we were off. The first cat ride up is a little longer so we can get up to Meadow Mountain. Half way up we started to see a few breaks in the clouds and then pow, we were in sunshine. Yup, 100cms in a week or so and then we get sunshine. The skiing was fantastic and we got to soak in some of the view points from Meadow Mountain and the surrounding ridges.
We were able to ski somewhere in the neighbourhood or 10 or 11 runs that day. Our guides Jeff and Rob took us to varied terrain including open faces, tree runs, gullies and more. Each run offering a different personality and terrain features that kept all skill levels in our group satisfied. These guides really know there terrain and can assess a group early on in the day which makes the experience at Selkirk Wilderness all the better.
We ended up back at the lodge a happy bunch. We chilled on the deck with the group from the other cat as well as a film crew from Sherpas Cinemas. There is nothing like hanging out with people you just met talking about skiing powder and sharing a few beers. It is one of the things we really love about the SWS experience.
Day Two – We wake up and it is starting to snow. And snow it did. At times it fell as if the clouds were falling down on us. Puking BC powder and we loved every minute of it! Jeff and Rob were itching to get out in the morning so they wrangled our crew together and got us out the door first. There was a method to there madness as they took us up to an area called Lightning Ridge. Our first run was Cadillac. It hadn't been skied in almost 3 weeks and I don't think the guides could have guessed how sweet it would be. After one run everyone was trying to put it into words. I am just glad that our guides knew what they had stumbled upon because they kept us there all day. We sessioned Lighting Ridge from one end to the next. As one of our guides put it, " We are going to keep doing this till we get it right!" Well, they got it right and made Tuesday March 20th 2012 one of the best days we have had on skis.
So as I said, sometimes things come together just right. Our entire crew was able to work this trip into their schedules, we arrived after the biggest storm cycle of the season, we got sunshine on day one and we got serious powder on the second day. Put that together with the hospitality of the people at the SWS lodge and the new friends we met and you have a recipe for a story to tell over and over again any chance we get.
We hope you enjoy the photos below that we got on this season's trip to Selkirk Wilderness. We definitely recommend booking a trip with this outfit. They treat you like family and show you what skiing powder and enjoying the mountains is all about.
Thanks SWS.
[widgetkit id=7]