It's still Winter at Big Red Cats!
More terrain at BRC opens up more seats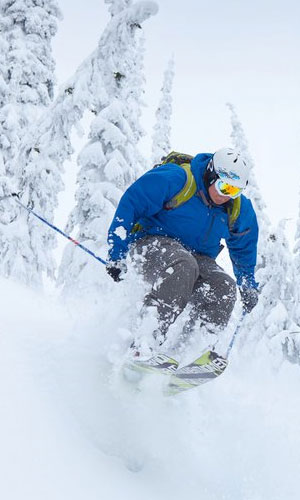 We are on the backside of March now and most of the population is done with winter. But not Big Red Cats. We arrived on Friday morning at 8:30am to meet a bus load of guests ready to pile into 4 snowcats. Four! It was amazing to see this fleet of Piston Bullies rolling up to the staging area prep'd and ready to take the mass of powder hounds out in to the backcountry.
Now some of you may be wondering how 4 snowcats can all be up in one area and not have the snow get all chewed up. You aren''t alone. We thought the very same thing. But you know, we barely saw the other cats and rarely crossed a track save for a few little traverses. You see, Kieren and his crew at BRC have spent hundreds of hours every summer glading runs, building new roads and opening new terrain so they can accommodate more skiers and boarders at their operation.
Conditions for mid-March are incredible this season. There have been a few significant storm cycles that have topped up the snow pack and brought some consistently soft powder days. The snow is starting to get heavy in the afternoon these days but with the variety of terrain at Big Red the guides will be able to take the groups to areas less effected by the sun.
Big Red Cats still has some last minute seats available leading up to the end of their season. If you want to break free from the office or the confines of the ski resort, treat yourself to a day at BRC. We just might sneak out there one more time too!
{gallery}BRC03182011{/gallery}