The steep and deep has never been so sweet
We are back to reality now. It hasn't been that long since we were at Mustang Powder but it feels like a lifetime ago, if it actually happened at all. I say this because it really did seem like a dream. Let me explain.... Driving down the Trans-Canada Highway somewhere past Sicamous BC we are parked at a truck stop in the middle of a high pressure system cold snap. It hasn't snowed for days and we aren't exactly feeling the stoke like you would if you found yourself in a classic BC ski town. However, we were there so we loaded onto the bus and made our way up the valley with 16 total strangers.
Skiers and boarders from all over piled into the Mustang school bus that cold evening in December. They came from places like Quesnel, Calgary, Virginia and Valdez (yes, someone left Valdez to come Catskiing in BC!) all came together in search of one thing: pristine BC powder. An hour ride and a few beers later we seemed like old friends.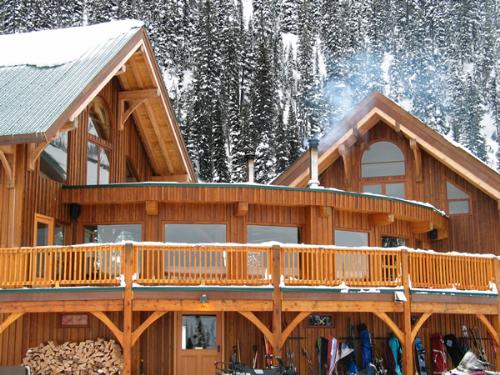 When we arrived at the lodge and were greeted by the friendly staff at the Mustang Powder Lodge. They helped us unload our gear, put our boots on the heating rack and set us up in our rooms. The rooms are set up for two to a room with your own private bathroom. If you want some privacy, you can request your own room which is apparently on a first come first serve basis.
With some time to kill before dinner you can entertain yourself by shooting some pool, chilling in the hot tub or relaxing with a cool beer on the one of many leather sofas. Around 7pm the dinner bell rang and boy were we in for a treat.
The meals are all served family style where everyone at the lodge gathers in a large vaulted ceiling dining room. If a romantic dinner for two is what you are after, this ain't it! This is Mustang Powder baby: good food and great skiing is what's on tap here. Ok, now back to the cuisine...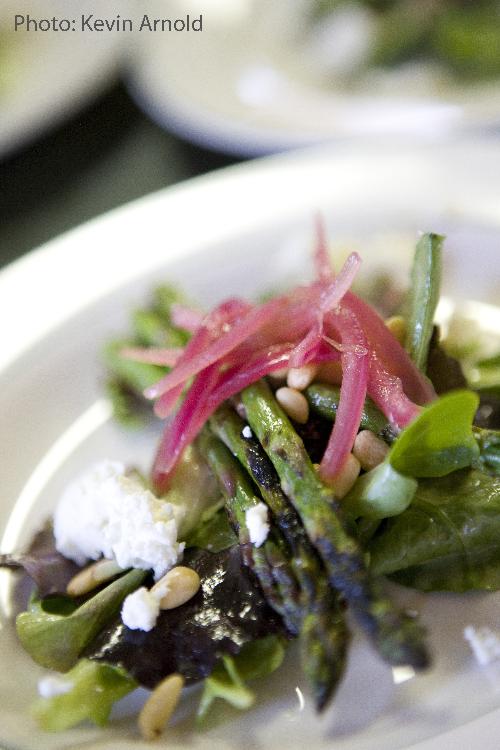 The food at Mustang is fantastic. Being a group of young guys, we need a lot to fuel to fill the tank. Mustang surely provides it. Over the duration of our three days we were treated to three and four course meals consisting of creative appies, salads and main courses featuring Alberta Beef, Pacific Salmon, and delicious chicken. And if you want to meet the chef, chances are you will ski with him while you are up there!
Nick and Ali, owners of Mustang Powder, insist that their staff are as enthusiastic about powder skiing as their guests are, maybe more. Each day we had a different member of the staff riding with us. We shared runs with the bar tender, the chef, a housekeeper, and a cat mechanic. It really adds to the whole experience when everyone there, even the staff, are totally amped up on the powder snow.
The cats are waiting for you outside the door of the Mustang Lodge warmed up and ready to go for the day. After our very thorough safety meeting with the guide team, all ACMG certified by the way we pack up and get rolling. The guides are very professional and have worked out a system where the two main objectives are having a safe day and getting in as many runs as possible. You really get to know these guys after a few days skiing, eating, and relaxing.
So we've covered the trip up, the lodge, the food, and the guides. Now the skiing. After a 10 minute ride in one of the deluxe Pisten Bully 300s we are at our first drop off point. Nick and his crew want to get you skiing as soon as possible. Even the start time of the day varies depending on the light of the morning. The first run is usually a smooth open bowl like Carnival or a gladed tree run. Just to get the legs going.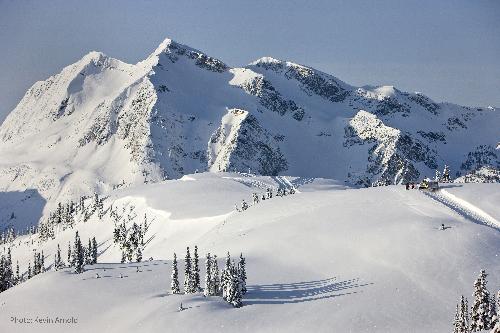 Throughout the day skiing the cat works its way along the extensive network of roads that are constantly being built and maintained. Mustang has ridgelines all over their terrain which makes it feel like you are in a totally new area almost every run. With the mix of gladed tree runs, open bowls, high altitude glacier runs, and the steep tree ridge lines, Mustang has plenty to offer all skiers and you will hardly ever cross another skiers tracks.
As I mentioned earlier, we got to Mustang Powder during a high pressure system which meant that the area hadn't seen snow for five or six days. The first day the guides did their best to find some fresh powder for us and we got a taste of what Mustang was about to offer us. The first night we stayed there the temperature warmed up from -25 to -15 allowing enough moisture to build an drop about 15cms of fresh snow. This was enough to get the guiding team stoked about taking us to some new terrain! Of course, we were all for that.
Most catskiing operations aren't even open in early December and Mustang already had a 250cm base in the first week! We were about to be treated to some terrain that they don't normally get into until mid-season. Although we didn't get to go experience their terrain above treeline, we experienced some of the most amazing tree lines we have skied...ever. Long, consistent fall lines with plenty of powder to go around. Sounds good eh? It got better.
At the end of the second day it started snowing.
We woke up on the third and final day of our visit to Mustang to 30cms of fresh North Monashee powder. We had heard rumors that Mustang has a habit of doing this. Well, let me tell you it was on. The guest and guides alike were pumped right up. I think we all ate breakfast faster that day. We were even joined by Nick that day and a couple more of his staff which made it all the more fun.
Nick is all about vertical. He skis almost everyday and wants to get as many turns in for his guests as possible. He even goes as far as changing the time zone once you arrive so we can use more of the daylight! Gotta love it. As a result we clocked an average of 12 runs a day with somewhere between 16,000 and 20,000 vertical feet. Those are heli skiing numbers! In fact, we had a guest from Virgina who is an avid heli skier say that he had no idea catskiing was so incredible. It sounds like he is re-arranging he schedule and coming back to Canada to explore catskiing further.
And that is what we recommend. Cancel whatever you have on your schedule, call in sick, re-organize your family vacation, whatever it takes and get out and explore some of the BC backcountry. We have found that Catskiing is the best way to do just that. Consider giving Nick, Ali, and the crew at Mustang a try. You'll be thanking us you did!
What you need to know about Mustang Powder:
Normally ski between 8 and 14 runs a day (12,000 – 20,000 vertical feet). The first day is a little shorter due to the safety briefing.
Average snowfall of 60ft per year, with an average temperature of -5 to -15 Celsius (5 to 23 F).
Great food prepared fresh at the lodge with an on-site baker and and chef. Special dietary requirements are easily accommodated, as all meals are custom plated and served.
The lodge does have internet access for those that need to stay in touch. We recommend leaving as much work at home as possible and enjoying the snow.
Fully stocked bar at very reasonable prices, so no need to bring your own drinks.
Pickup is located 44 km west of Revelstoke or 28 km east of Sicamous. Kelowna International airport is only 2 hrs away, and is the easiest place to fly into. They service many local and international airlines such as West Jet, Horizon (Alaskan), Air Canada, Central Mountain Air, and more.
Your Trip, Your Way at Expedia.ca
If you don't have the right skis, or prefer not to travel with your own, Mustang has a wide variety of skis available for rent.
Make your own lunch bar with lots of freshly baked goodies and sandwich fixings, which is awesome because you can pick exactly what you want to take, and you can load up so you're never hungry during the day.
While you're in the area, there are numerous ski hills located with an hour or two if you have more days you want to ski. BC Ski Resorts