Nelson Black Heart Oatmeal Stout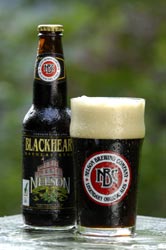 Blackheart Oatmeal Stout

Pros: Tasty and rich and goes well with many types of meat
Cons:  Not available at every cold beer and wine store, but worth looking for

This has been a staple for our group for many years.  Whether you are sitting by the campfire on a summer evening, or lounging in a sweaty hotel room on a winter night waiting for your next day of skiing, it is a must to enjoy.  Unlike some other stouts and beers that just look dark,  this Stout has a true rich flavor that matches its coffee like appearance.  As always, certified organic and locally brewed.