Oda to Joy – Our Review of the Skevik Oda
Review by Todd Avison – Catskiing.ca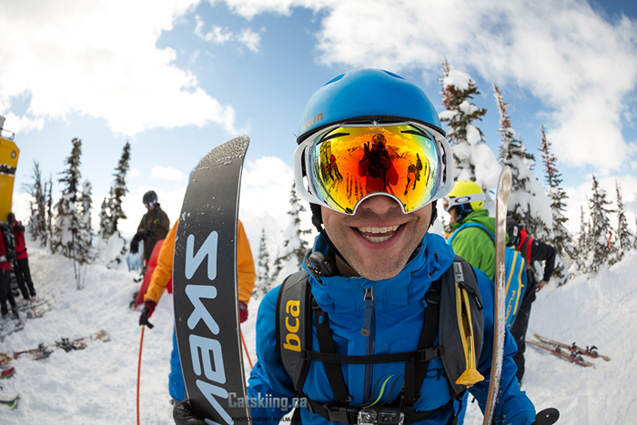 When I first stepped into the big and fat Oda from local ski maker Skevik all I could think of was the symphony Ode to Joy by the great composer Beethoven. I don't really understand why. It could have been a subliminal thing. It could have been that everything came together at that moment in a harmony of perfection. Or more likely it could have been the lack of oxygen as I stood on top of Meadow Mountain at Selkirk Wilderness Skiing.
We began our trip the day before starting out in Vernon BC where we stopped to meet Gregg and Glenn Anderson of Skevik Skis Inc. These brothers have set up a ski manufacturing plant in the North Okanagan and are pressing some inspiring designs – in shape and style. We were given a set of Oda's as well as their flagship ski the Anton to try out on our trip to SWS. What better proving ground for a BC powder ski than the place that pioneered cat assisted powder skiing.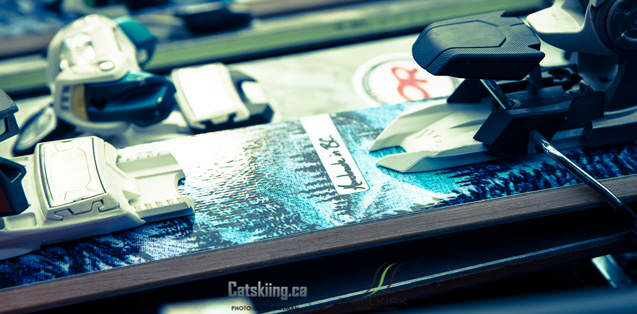 Pulling the Oda out of the truck and onto the cat got a few questions and even more looks. The shape of the ski is the McConkey-inspired reverse sidecut/reverse camber. Onlookers were strangely attracted to them and wanted to know what the deal was. When we explained that they were pressed only a few hours away in Vernon by a couple of brothers their eyes instantly went to inspect the build quality. The attention to details and quality of materials used in the Skevik product is top notch, right down to Canadian maple cores, beefy ¾ wrapped edges and a lighting quick 4001 sintered base.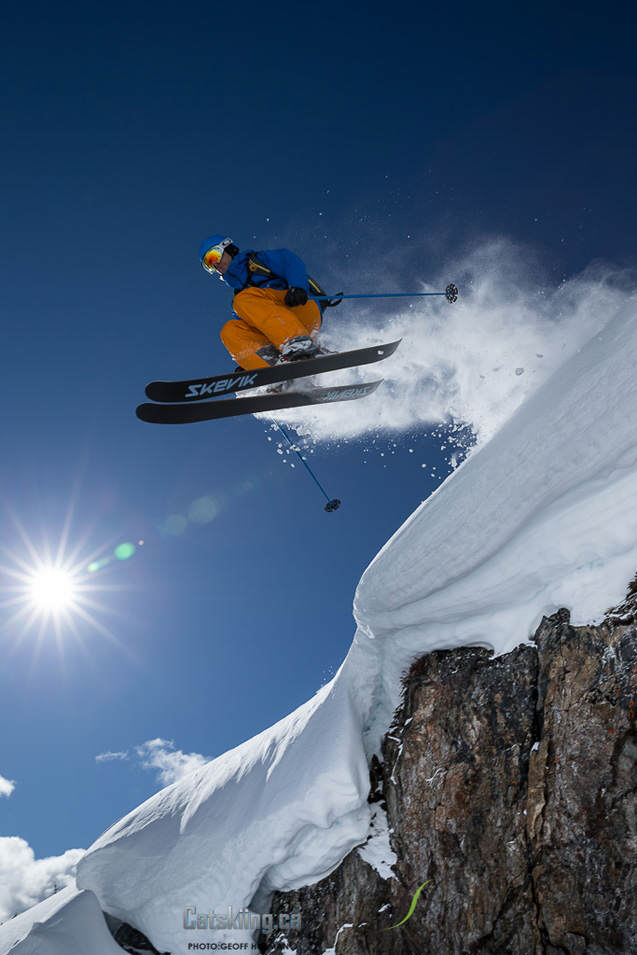 The First run: I have to admit, the first run on these wide beauties threw me for a loop. It took me the run to find the sweet spot in the cambre. A few runs later and I was in the groove of how these skis wanted to be skied and I could find out what they were really all about. There is no back seat on the Oda but there is plenty of heft under foot. My explanation for the perfect riding stance is right in the centre and ride them loose and kind of surf style. Once I knew what made the Oda tick it was straight into pure powder pleasure.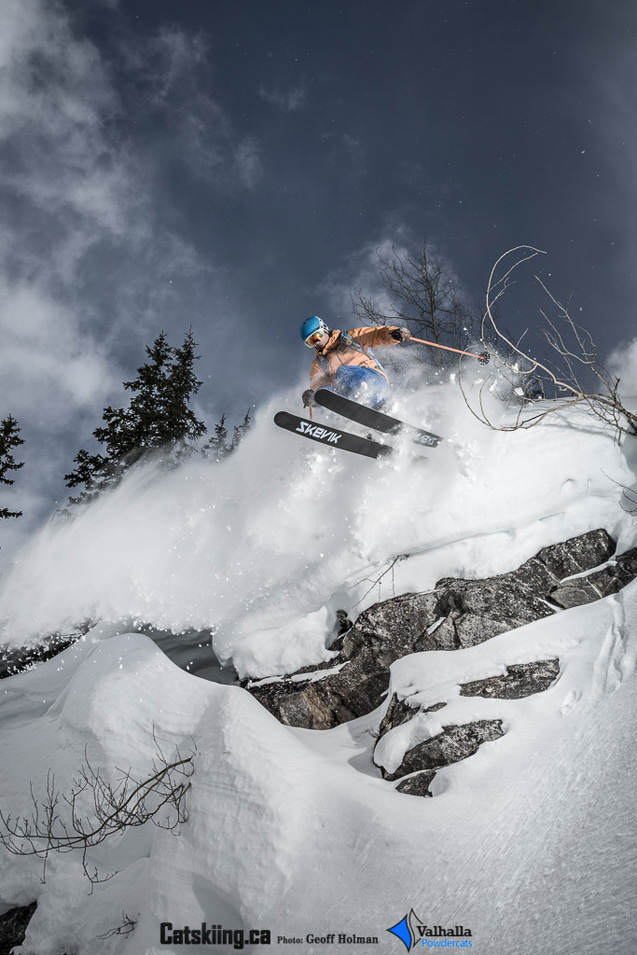 Powder Performance: Powder is what the Skevik Oda was bread for and we get a lot of it here in the Interior of BC. Many people will say that the Oda and other reverse cambre skis are not versatile. Of course they are not! That is like saying an F1 car is not a very versatile car. They are designed for a specific purpose: shredding deep powder. And shred it they do. The Oda is solid as a Mac truck under foot yet nimble when you want to play around. The mix between the solid wood construction and reverse shape reveals a magnificent combination where you can charge lines with, jump into the trees and pop off features like you are in Mother Nature's terrain park.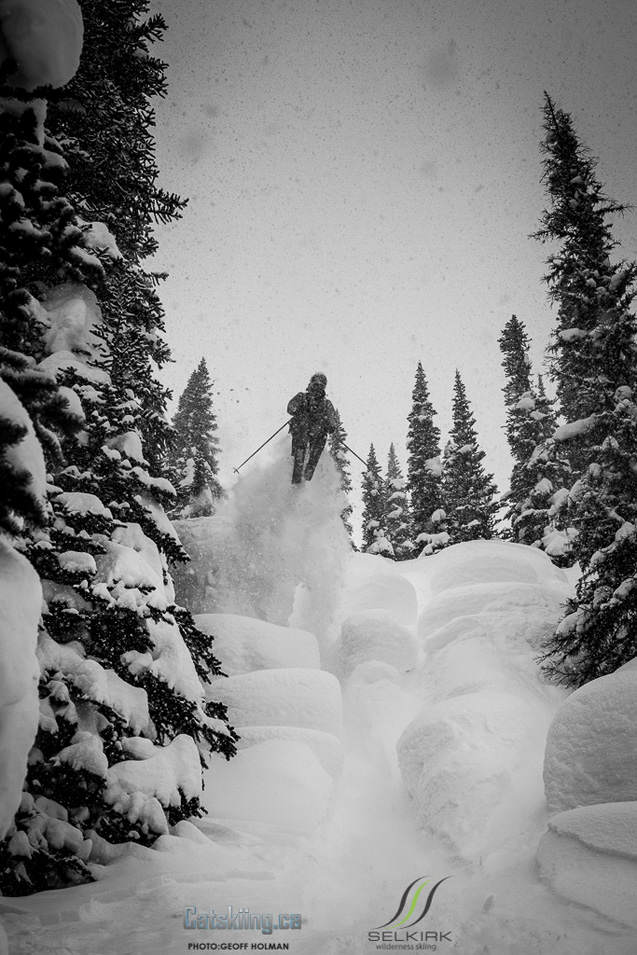 Construction: When it comes to powder skis I am not usually too concerned with construction. Shape and durability is where it is at in my books. But this Oda is just too well crafted to over look. Handmade with a traditional vertically laminated Canadian maple core, plenty of triax fiberglass, carbon fiber stringers where you need them and a super tough base and edges all add up to a light, fast and really tough ski.
Graphics: Love em! The set we had were graced with a graphic call the Stein – a piece of custom art by a local Vernon artist. It is depiction of BC mountain life right from the top of the mountain forest to the rivers of our great province. I especially liked the howling wolf on the tips. You can get any of the Skeviks in 5 different top sheets with new designs released every season.

The Verdict: I spent two solid trips on these Oda's of Joy. Three days at SWS and another two at Valhalla Powdercats. They made a lasting impression on me. I know this to be true because every time I open the door to my storage locker my heart races a little when they greet me. This is a pure powder ski that requires the skier to be a dedicated powder hound. There is a sweet spot on this ski and once you find it, you will be having the time of your life just like me. The construction with the wood side walls requires an annual treatment of linseed oil to keep them looking and performing optimally. If you are looking for a unique powder ski for your quiver, we recommend checking out the Skevik Oda and find your symphony of Joy!
Links:
Skevik Skis Inc.: www.skevikskis.com
Selkirk Wilderness Skiing: www.selkirkwilderness.com
Valhalla Powdercats: www.valhallapow.com