Outdoor Research Dry Bags and Sacks
You wouldn't buy a Wet Peak Bagger would you?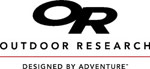 Outdoor Research is an industry leader when it comes to gear storage and dry bag technology. Combine that with the fact that everything OR makes comes with an infinite guarantee, you can't go wrong. So, whether you are throwing gear in the back of a snowy pickup, or making a bootpack to the summit, OR has a number of options that would look great under your Christmas tree with a big bow.
The Dry Peak Bagger is an ultra lightweight, weatherproof bag designed for quick pushes up the mountain. This will keep your gear dry and fit comfortably, all for a very affordable price. Simple, straightforward, that's what we like. Even the name says it all. You wouldn't buy a Wet Peak Bagger would you? Didn't think so.
The Drycomp Summit Sack is a versatile bag with multiple functions. It works as a waterproof compression bag for storing jackets, sleeping bags, and other gear. Then, when needed, the compression straps turn into shoulder and waist straps for a unique, roll top backpack. Who said you're too old to get transformers for Christmas?
When you need extra features like compression straps and a mesh pocket to accommodate a hydration bladder, you need the Drycomp Ridge Sack. A waterproof roll top closure, combined with comfortable mesh shoulder straps make this a great daypack choice. Waterproofness and strength are made possible with radio frequency welded seams. We don't even know what that means, but we're pretty sure it has something to do with lasers. Awesome!
For more info on these and other dry bag storage options, check out Outdoor Research online.
{gallery}Gear/OR/Bags::::2{/gallery}