Powder Alert for BC and the Pacific Northwest
Here it comes! Heavy Snow Fall for the Cascades and Rockies.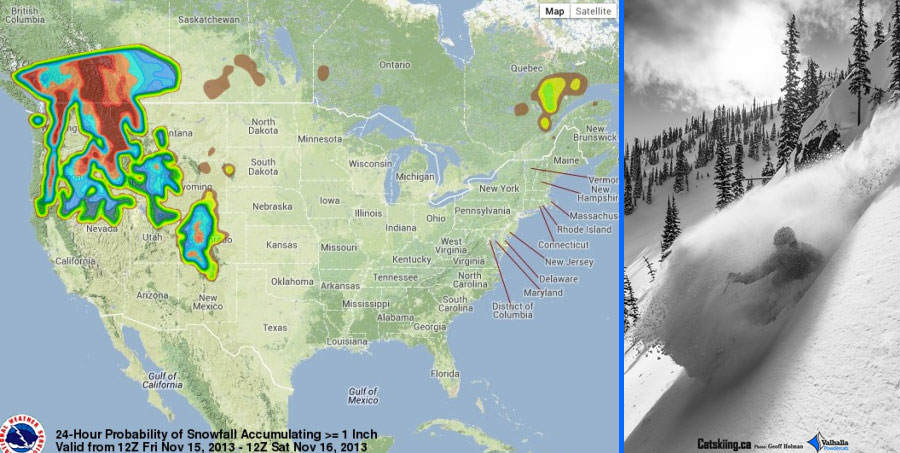 Brace yourself BC because here comes the first of many epic snowfall warnings. We have had a great start to the season up high with some solid storm systems rolling through in October. Now it is mid-November and things are getting serious.
For a few operators planning to open in early December this Heavy Powder Alert is welcoming news. Temps are expected to drop to zero all the way down to sea level with much colder temperatures up high. Combine that with a wallop of moisture and BC is in for some powder!
Here is the report from PowderChasers.com:
Coldest storm of the season will move into BC and the Cascades on Friday. Snow levels will drop near sea level by Saturday morning under NW flow allowing significant blower powder to Accumulate. Mount Baker is favored with NW flow. A convergence zone of cold orographics through Saturday night will extend snowfall over Stevens Pass and Alpental. Areas like Crystal will see moderate amounts extending into Oregon through Sunday.
Snowfall will extend into most of Idaho, Western Montana, Wasatch of Utah and Southern Colorado by Friday. My thoughts are for a very deep dump for the Wasatch Saturday/Sunday, Light snow from Aspen and the 4 corners Friday, and heavier snowfall for most of Colorado Saturday night and Sunday. My picks will be Aspen, Telluride, Vail, Steamboat, and most of Summit County by Sunday afternoon. The Front Range near Denver will see light snow on Sunday.
Bottom Line: Deep cold dump, lots of Powderf Buzz, but for many areas dry powder might not be the best for base building. With that said, many areas in the West including Aspen, Vail, Snowbird, Grand Targhee,Whistler, Steamboat, Jackson Hole already have seen 50-65 inches of snowfall this season at the peaks. The Northwest saw great snowfall in early October but inconsistent amounts. Most of the Cascades will reap rewards this weekend. My vote will be Baker and Stevens Friday/Saturday and perhaps Crystal Sunday. The Sierra may see a few flakes on the Eastern side near I-80 by Saturday (Some glimmer of hope). The Wasatch will be deep as well as some areas of Colorado. The Tetons are my wildcard.
Enjoy the Powder!