Red Bull Supernatural is coming to Baldface Lodge
Travis Rice aims to find the world's most all-round snowboarder this February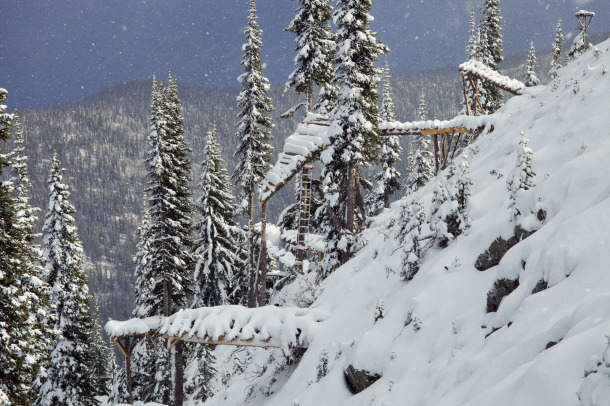 Part of the event area of Red Bull Supernatural ©Danny Zapalac/Red Bull Content Pool
Travis Rice and a team of lumberjacks hiked up into the BC backcountry last summer to build the ultimate run. The concept is to combine all aspects of snowboarding into one run; meaning steeps, trees, freestyle, jib... all of it. The goal: to find the world's best all-round rider.
The slope that will be the feature of the Red Bull Supernatural event can be found at Baldface Lodge. It's a catskiing operation nestled in the Kootenay mountains near Nelson in the interior if British Columbia. The run is called 'Scary Cherry' and scary it is boasting a 45 degree pitch in some spots. It will feature over 80 different man made hits and stunts along with the natural bluffs and treelines that Baldface is known for.
Riders and film crews will be up at Baldface Lodge for a week of riding between February 3rd and 8th. The plan is to pick the best day with the most optimal conditions and see what happens!
For more the full story, check out Red Bull's site here >>>