At Mustang Powder with the Winner of the Ski Canada Contest
Andrew Pilliar collects on his prize and really cashes in!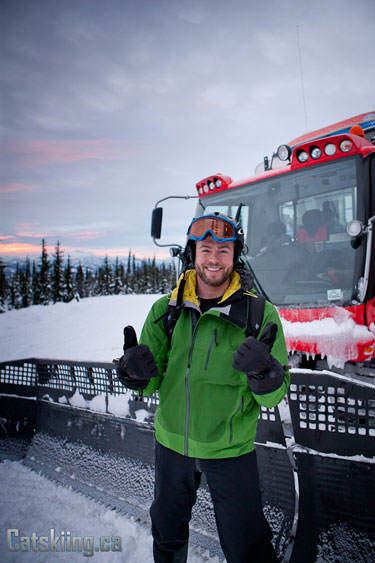 True story: we have a good friend named Andrew who lives in Vancouver and entered the Ski Canada 40th Anniversary Sweepstakes Contest. When word went out on Facebook a few months back that a certain Andrew from Vancouver was the winner, we were convinced it was him. We couldn't confirm the last name so we naturally assumed it was our Andrew. I mean, how many Andrews can there be in Vancouver? We were going to research this to really show that we are hot journalists but were distracted by ski videos on Youtube...
As it turns out, it wasn't our Andrew, but another lucky guy. Here is what he had to say about his trip to Mustang Powder courtesy of Ski Canada Magazine:
"Subscribing to Ski Canada this year was one of the best decisions I've made in a long time - winning 2 days of cat skiing at Mustang Powder absolutely confirms that!
I'd never been cat skiing before - though it had been on my wish list for years - and I was a little skeptical about the snow conditions as I drove from Vancouver to Mustang's pick-up spot between Sicamous and Revelstoke. Although the website said they had 6 feet of snow at the lodge, the roads and countryside were snow-free as I drove up, and I expected that the conditions had been exaggerated. I was wrong.
Saying that my two days at Mustang were the best early season skiing I've ever had doesn't do them justice. They were among the best powder days I've ever had. Period. Mustang runs a very smooth operation - staff are very personable and professional throughout, the food is terrific, the lodge is very comfortable, and most importantly, their guides are there to find you as much great skiing as possible. No run farming.
I'm very impressed with Mustang's operation, and can't wait to try to come back with friends in the future."
It was great meeting you Andrew. Now we have two friends named Andrew!