Snow snow and more snow this season is looking good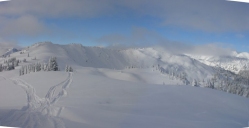 A little update from Selkirk Wilderness Skiing. I think it has something to do with snow.
Snow and more snow! -2c at the lodge with 20cm of new snow overnight and an accumulation of 50cm. Higher up we have 20-30cm (12 in) fresh with a base of over 1 metre (3.5 feet). Epic!