Spring Catskiing Looks Classy
With all the late season snow in BC this picture inspired us!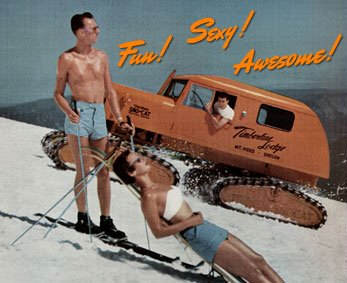 Some call them the good ol'days. Why not make right now the good ol'days?! With all the late season snow out there in the BC backcountry, wouldn't it be great to have a few relaxing laps in a snow cat to enjoy the transition from winter to summer? At least the chance to hang on to the snow season just a little bit longer?
We know, there are snow stability issues and safety comes first. And that most people have been golfing for months and are out on their bikes and getting their boats ready. But come one, doesn't this photo make you yearn for some overtime in the BC catskiing country?
(Photo: Timberline Lodge - Oregon)