Selkirk Wilderness Skiing and Sherpas Cinema Team Up!
A match made in heaven…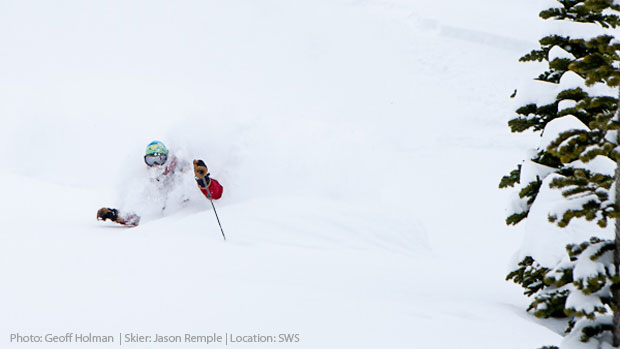 Could there be anything better than Selkirk Wilderness Skiing (SWS) and Sherpas Cinema teaming up to produce a cutting short promo film? Following on their massive success of the full length feature film "All I Can", Sherpas Cinema has been retained by SWS, the original snowcat operation in the world, to create a short film to help promote SWS to the global ski and snowboard community.
"We are so excited to be working with Sherpas Cinema on this project," said Irene Brinkman, General Manager of Selkirk Wilderness Skiing. "I could not believe it when they responded to our call for proposals and how excited they are to work with us! We can't wait to see what they come up with especially after seeing what they have done with the film All I Can which is so amazing."
The upcoming film, written and directed by Dave Mossop and Eric Crosland, will be shot this winter (2012) at SWS and will star surprise ski and snowboard athletes as well as the ever impressive SWS Guiding Team lead by Jason Remple. Without giving too much away, the film will focus on what makes SWS truly one of the best snowcat operations in the world including some awe inspiring powder footage and also finds the heart of why guests keep coming back year after year. The project is scheduled for a July 2012 release.
"The idyllic setting and rich history of SWS sets the perfect stage to tell a compelling story about the originators of Cat Skiing in Canada", says Sherpas Producer Malcolm Sangster. "They started a movement, sub-culture, and on-going industry here and we want to tell that story and show why SWS is still at the top."

Since 1975, Selkirk Wilderness Skiing has been known as the original snowcat operation. During the years since then, and with only 24 skiers per week, they have developed a loyal following as one of the finest experiences that a seasoned skier or snowboarder could hope to enjoy, and also the perfect place to try deep powder for the first time. Situated in the southeastern corner of British Columbia, about 90 minutes from Nelson, visitors to SWS can experience over 70,000 vertical feet of untracked bliss. The network of snowcat roads provides skiing within an area of 30 square miles (the size of Vail and Whistler combined) with runs up to 4000 vertical feet.
For more information please visit: www.selkirkwilderness.com