Editor's Pick from the 2012 Freeskier Magazine Buyers Guide. (and we like it too!)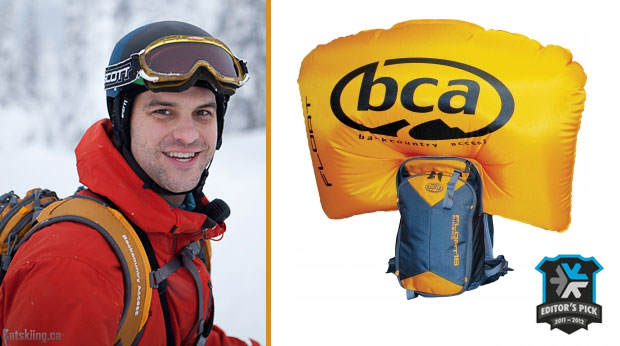 Being the beginning of September and all, we often find ourselves with nothing better to do than hang around coffee shops and leaf through the magazines on the rack. I mean, why pay for them if they are just sitting there, right?! Anyways, on a recent trip to the caffeine store we found ourselves glued to the pages of the latest Buyer's Guide from Freeskier Magazine. One of their better Buyer's Guides yet actually. As we got through the regular hype on all the new skis we saw that BCA had been recognized with an Editor's Pick on their new Float 18 Avalanche Airbag. We were stoked because we absolutely love our Stash packs and got to play around with a Float 30 at Valhalla Powder Catskiing last season.
The Float 18 is new for this season. It is the smaller cousin to the Float 30 and an awesome choice for lighter weight safety gear. The Float 18 is only 6.5 lbs and still has an 18 litre capacity giving it plenty of room for skins, extra gear and of course, snacks. As with all BCA packs, this one comes standard with the stash pockets for the rest of your avi gear. With the weight savings and ample storage space, we think BCA has hit it right on with this Float 18 pack. We will give more detailed reviews and videos when we are out catskiing in the mountains of BC this season!
For more info on the BCA Float 18 Avalanche Airbag, click here >>>