The New BCA Float 30 at Union Cycle
Check them out for more BCA gear...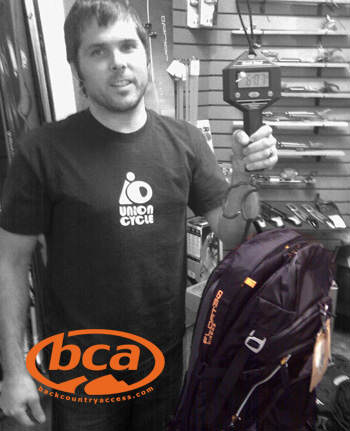 We were cruising around the sunny Okanagan this week promoting our Catskiing Giveaway Contest It gave us a good excuse to visit all the local shops to check out all the new gear and still call it "working". An exciting time of year for sure: you can still mountain bike all the while everyone around you is getting stoked for ski season.
We happened to drop into Union Cycle in Kelowna BC and were surprised at what we saw. Union Cycle is a core little bike shop but we had no idea what they did in the winter.
As it turns out, they are the go to place for backcountry gear in the area. What really got us going was their stock of the new handmade ski line Moment Skis and also that they had a few brand spankin' new Float 30 packs from BCA.
The guys were kind enough to show us the packs and snap off a pick or two.The pic here is of Dale showing us the weight of the New Float 30 pack.
If you are searching around for a cutting edge avalache safety pack, be sure to give the crew at Union Cycle a call - 250-979-4327