Testing the Ski Logik Howitzer and Bomb Squad's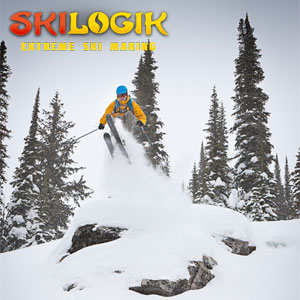 Thumbing through the pages of a buyer's guide for the 2010/2011 ski season and one thing is quite obvious: there seems to be a plethora of new ski companies designing the latest and greatest new skis. We love this new movement in the ski industry where small manufacturers are developing new shapes, using interesting materials and building a story into every ski. Ski Logik is one of the many new kids on the block and by our accounts, have the product to stay around for a while.
On a recent trip to Wildhorse Catskiing and Valhalla PowderCats, Dave Ellison (local Kootenay skier and Ski Logik rep) slid us a couple of sets of skis to try. Armed with a pair ofHowitzers and Dave personal set of Bomb Squads we hit the cat aiming at discovering what makes these skis special.
First things first, these skis are beautiful! Ski Logik hand-makes each pair of skis putting a little sweat and custom artwork in each pair. They don't have a traditional screened top sheet either. Instead, the have a unique wood veneer artwork placed on top of the full wood construction (sidewalls included!). I didn't want to scratch these babies, I just wanted to sit and stare at them. The style reminded me of my custom cedar guitar with darker wood inlays and mother of pearl up the fret board. Seriously, they are on to something with the look of these skis.
But looks can only get you so far...The real question always is: What do they ski like?
Let's start with the Howitzer. First impressions where light, quick, nimble, yet with tremendous powder to the edge. For skiing the steeps and deeps all day long there are wider options out there, but the Howitzer would be hard to catch on the skin up. (Plus, you would look damn good waiting at the top with your hot looking skis!). The Howitzer really felt like an all mountain machine. A one ski quiver if you will. It definitely held it's own in the powder and also had characteristics that would make it a wicked touring ski as well as an all round ripper at the ski resort.
Now, the Bomb Squad is a different story. This ski lives up to it's name. It is bomber tough. Skiing through the trees they begged me to go faster. Upon coming into an open powder field I had to let these babies run. And run they did. I spent the entire day trying to find the top end of the Bomb Squads and never found it. You can bet I want more days on a pair! Even though the Bomb Squad is a bigger profile it didn't feel big and cumbersome. It still had a hint of the nimbleness of it's younger sibling which I think separates it from alot of the other independent skis out there.
The hard facts:
The Howitzer


Size: 186 cm
Tip: 137 mm | Waist: 110 mm | Tail: 131 mm
Weight: 3900 g
The Bomb Squad


Size: 188 cm
Tip: 148 mm | Waist: 122 mm | Tail:143 mm
Weight: 4300 g
Would we ski em?
Heck yes! The Bomb Squad was the overall favorite for the powder hound and definitely the ski of choice if you are packing some muscle. The Howitzer suprised us and would be the perfect ski if you do some skinning or just want a super nimble and light set up. The wood construction is very tough and looks fantastic. Dave had about 40 days on his already and they looked almost new. It feels kind of cool skiing on a piece of art!
Where to buy?
See our friends at Union Cycle - http://www.unioncycle.ca/
Company Website: http://www.skilogik.com