Valhalla Powder Cats Delivers Again
Year after year the early season Catskiing at Valhalla is consistently fantastic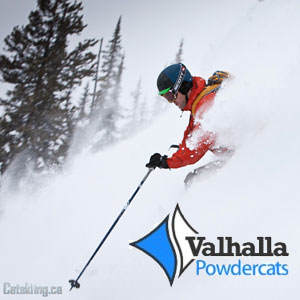 "A warm up run is more of a state of mind"
We got out of the cat at the top of the first ridge of the day when our lead guide Martin tells us that we are going to start the day with a nice warm up run. After a few grumbles from the eager crowd Martin eased our worries of some boring run chewing up our valuable daylight. He put to rest our anxiety with a calm comment: "around here, a warm up run is more of a state of mind." And he was right.
From that point forward we skied nothing but fresh, untracked Kootenay powder. Being early season, December 28th and 29th to be exact, the snow had not even been seen yet let alone skied. Every run was bottomless and void of tracks. You could tell that even the guides were giddy. First tracks every run must be tough!
We visit Valhalla Powdercats every season right around New Years and it always delivers. In fact, our deepest day on record happened at Valhalla (65cms + another 20cms overnight in case you were wondering!) and this season is off to an amazing start. We were skiing areas that they don't normally get cat roads into until late January. This is thanks in part to La Nina but also to a team of keen road builders. Valhalla has put a great deal of off-season and early-season work into building an efficient road system that results in their guests getting to see more terrain and really experience what the Valhalla area is all about.
One of the things we notice year after year at Valhalla Powdercats is the variety of terrain. Each run feels like it is in a different area. The guides do a fantastic job of motoring their guests to a ridges, bowls, tree runs and talus fields making the experience feel like you are really exploring the area. It is easy to tell that Martin and his team of guides have dedicated themselves to knowing the terrain by heart. John, our tail guide for the trip, is relatively new to Valhalla and is as stoked as the guests to be out there skiing fresh lines. It really adds to the experience when it feels like you are skiing with the guides rather than being led around by them.
Speaking of guides, these guys are top notch. They provide a no-nonsense safety meeting, are constantly analyzing the snow conditions and they also take the time to tell the group what they are up to. You get a sense that you are learning something about reading the terrain you are skiing when you are out with the Valhalla guides. This season they have switched over to the BCA avalanche safety gear which we are big fans of. each guest is set up with a BCA Tracker2 beacon (check out our review here) along with a few guest packs full of BCA probes and shovels. A few guests took the opportunity to rent a BCA Float 30 Pack. If it is avalanche safety that is holding you back from going catskiing, you can feel confident that Valhalla will keep you safe and educated.
So, early season is going off at Valhalla Powdercats. They have consistent snow, loads of terrain open, and a highly qualified crew of guides that know their terrain and love to ski powder. Consider Valhalla for your next (or first!) catskiing trip. We ski with them every early season and are blown away each year we visit. Hey, maybe we will even see you out there!
If you are looking for more than just a day or two, try one of their packages like the Kootenay Sampler or the Big Powder Safari. Let them know the crew from Catskiing.ca sent you their way!
Below is a short video illustrating how awesome the early season conditions are as well as some powder pics to check out while you are avoiding work and day dreaming about skiing...
[widgetkit id=12]