Steep and Deep at Valhalla Powdercats
Cold Smoke, Biscuit Flower, White Gold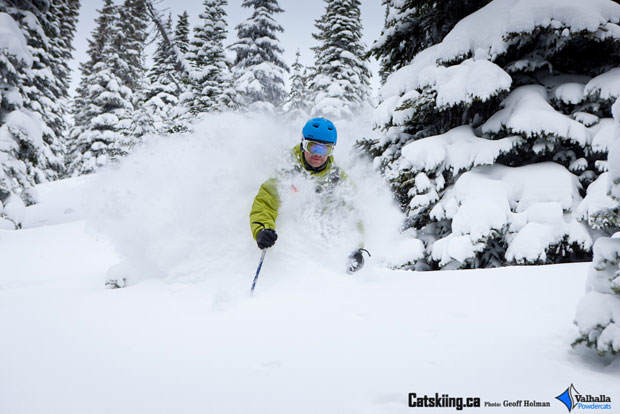 "20 on the 24 boys. It's gonna be a great day!"
- Clarke the Snowcat driver
These were the first words we heard as the big metal door to the snowcat swung open at the staging area of Valhalla Powdercats. You see, we were skiing the day before and the conditions were good. At the end of the day we were feeling good, but being skiers we wanted more. The end-of-day conversation gravitated towards comments like, "wouldn't another 10cms overnight be nice?" or "I wonder if it will be blue-bird tomorrow..." At any rate, we had a fantastic first day at Valhalla Powdercats but had no idea what we were in for the next day.
After Clarke opened the door and gave us his version of the weather report we hopped out of the cat to realize the true nature of what he was saying. 20 cms had fallen in the past 24 hours. And that was at the bottom of the mountain! Our best estimate was a 40cm foot penetration. That's our story and we're sticking to it!
Since this was day 2 of our trip to Valhalla we could skip the beacon training and head out for an exclusive first run. You know, just to test it out for the rest of the group. First turn on the first run and we knew we had struck gold, white gold to be exact.
Turn after turn after turn the light, blower pow was flowing around our bodies. Every run seemed to get better each time we got out of the cat and started skiing. Valhalla is known for having varied terrain and something for everyone. It is also known to push you out of your comfort zone no matter what level of skier you are. This 'hero' snow as it is called gives you the confidence to ski steeper, dig deeper and for those that are into it, go bigger.
And go bigger we did. Our guides this season felt the vibe of the group and took us to some legendary Valhalla Powdercats terrain features. Everything we hit seemed to be perfectly set up for us. And if you didn't want to huck yourself for the camera, you could ski around the features in the sweet pow and watch the action from below.
Runs varied for us both days. We skied long consistent tree runs, open pitches with little tree ski outs, steep chutes, and wide open bowls. Runs with names like Pissy Pants, White Stripes, Berry Pie, Lindsay's Shoulder, and our favourite, Huckleberry Bowl. See, like I said, something for everyone.
Now back to Clarke our cat driver. This guy lives for driving snowcats. His energy and attitude adds so much to the day. He is pumped to pick you up and the bottom and wishes you a wicked ride down at the top. This guy is no slouch when it comes to driving cat either. He knows the roads like he was born there and it is like he is one with the machine. Seriously, I rode up with him once and was amazed at how he handled the snowcat. He was often down at the pick up point before our group was!
And the guides...well, let's just say that these guys know their terrain. That can make or break a day. Josh and Tyler are skiing almost every day so they know where all the best lines are and they love to ski powder. We felt confident in their ability to lead the group safely and were stoked that they showed us all that Valhalla had to offer. For one of the most memorable days on record, Thanks!
Enjoy the pics below from our time at Valhalla and stay tuned for a video edit that we are putting together.
In the meantime, give Valhalla Powdercats a call and book a trip. We have gone 8 years in a row now and have had an unforgettable time every time!
[widgetkit id=3]