Why drive when you can fly?!
Eagle Pass Heliskiing now offers transfers to Mustang Powder Catskiing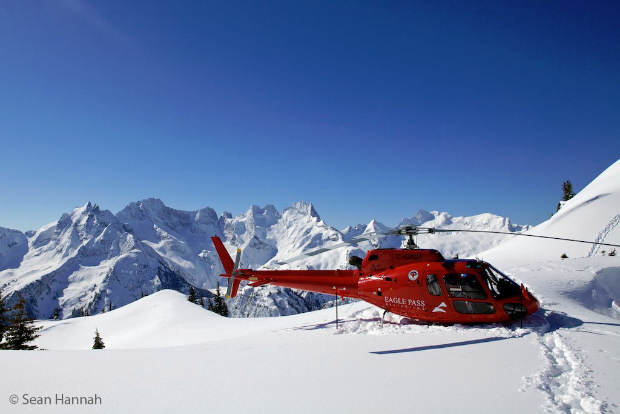 In BC, the highways can be unpredictable. They can close, some trucker could jack-knife his truck... who knows. Having lived in the province our whole lives, we have seen many ski trips cancelled or 'modified' because of unexpected closures. So why not rise above all that?!
Eagle Pass Heli Skiing and Mustang Powder Catskiing have teamed up to offer you exclusive helicopter transfers this season. You can choose from a variety of different services: you can package a trip together with a mix of heli-skiing at Eagle Pass, a few days of epic catskiing at Mustang Powder and then top the adventure off with some world class pampering at Sparkling Hill Resort. Or you can simply take advantage of the convenience of a helicopter and fly to the base of Mustang Powder Lodge. Your choice.
If you have a custom adventure in mind, Eagle Pass is up for it. They can work with you to get the most out of your flight time and your powder hunting escapades!
For more information on how this heliskiing, catskiing combo works, check out both the Mustang Powder site and the Eagle Pass Heli Skiing site below:
Helicopter Skiing to Mustang Powder >>>