Wild Powder at Wildhorse Catskiing
Untouched Powder coupled with Kootenay Hospitality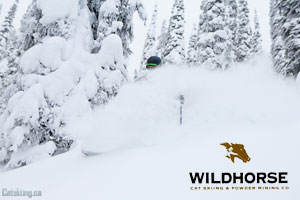 We were recently out in Ymir BC skiing with Trevor and his crew at Wildhorse Catskiing. They hadn't run a cat since the 18th so there was 10 days of Christmas powder accumulation sitting waiting for us when we arrived. The skies were dark but the snow was light...and deep! Wildhorse Catskiing is definitely a backcountry experience. There isn't a soul around out there.
Then there is the hospitality shown to guests at Wildhorse and the Ymir Palace. It is what you would expect from a small little settlement in the deep, deep Kootenays: everyone is shown a good time and then review the day over a cold pint at the Ymir Hotel.
We also want to give a special thanks to Dave from Ski Logik for letting us test out their handmade skis the Howitzer and the Bomb Squad.
Enjoy the video and pictures below. They will give you a great idea on how the season is shaping up. Oh, and give Trevor a call if you are looking for a good day in the BC Backcountry!
[widgetkit id=14]