It might have been the first day but conditions were mid-season.

No video selected.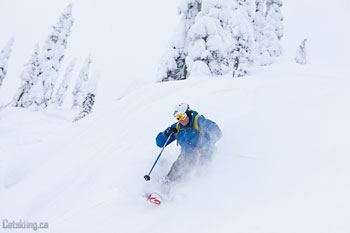 We had the priviledge of helping the crew at K3 Catskiing open their area for the season. Trust us when we tell you, the conditions are excellent! Kris, Rod & David have been working hard all early season to get in as many roads as possible. Their efforts coupled with a few recent gifts from La Nina enabled us to access terrain we were skiing mid-February last season.
If you are looking to get in some pre-New Years turns but have been wondering if conditions are good enough, wait no more and call the guys at K3.
K3 Catskiing is day skiing operation near Revelstoke BC. It is a short drive from Kelowna, Kamloops and even Calgary. If you are looking to ski multiple days, call their office and they can help you set up with one of the great places to stay in either Revelstoke or Sicamous.
[widgetkit id=13]
www.k3catski.com | Phone: 250-837-5100